Would you like a cheap, easy way to promote your brand? When you use our custom printed toothpicks, every dish that leaves your kitchen becomes a tool for marketing your business!
---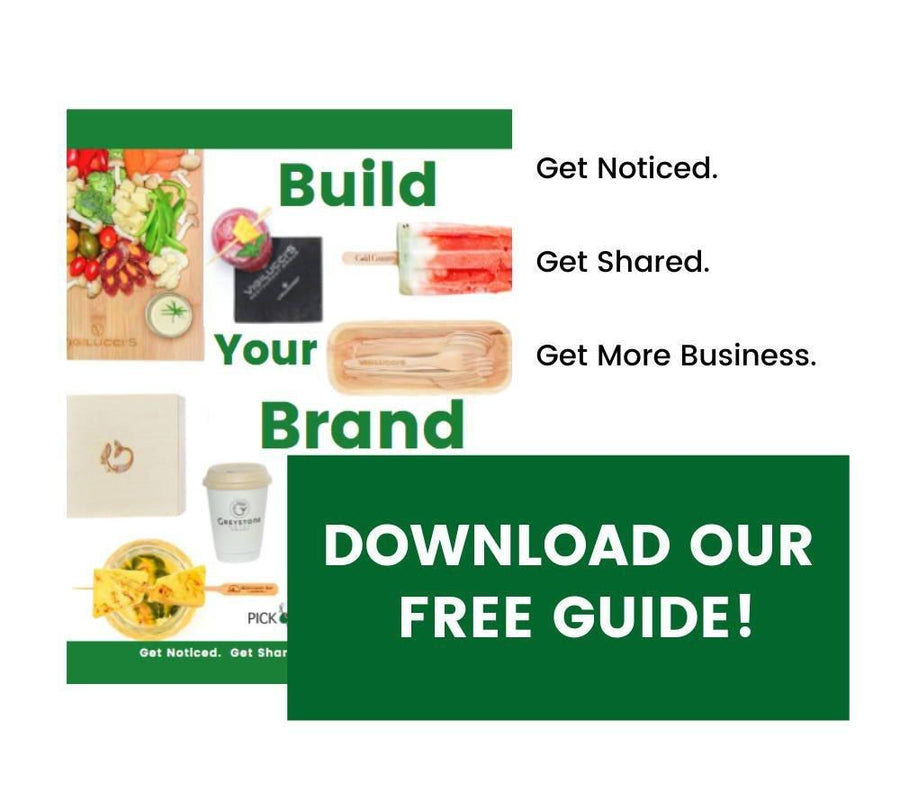 Marketing is often expensive and time-consuming. As a small business owner, you probably know that. 

Every business owner experiences marketing struggles - including us! We've experienced the complications of promoting your business firsthand and we understand how difficult it is to get your name out there. 
But we don't think it has to be that complicated. 
There are lots of small ways you can promote your business without spending too much time or money. 
One way to do this? 
Use custom branded toothpicks in all your cocktails, appetizers, desserts, and sandwiches! 
The average consumer sees over 3,000 commercial messages a day, which means it takes an average of eight touches for them to absorb your brand.  
Imagine this:
Every time a dish leaves your kitchen, it's an opportunity to make one of those crucial eight touches and impress your brand on your customers. You should take any opportunity you can get to make an impression on your clients, and our custom toothpicks are a great way to keep your brand on your customer's mind.
Stop missing out on hundreds of opportunities to impress customers and promote your brand! Try our custom toothpicks today! 
Types of Personalized Toothpicks
We have lots of different shapes and types of personalized toothpicks: 
Rectangle top picks

Roundtop picks

Paddle picks

Boat oar picks

Popsicle sticks

Oval picks 
You can pick out the shape or type of custom picks that best fit your needs. You can choose from one of our pre-designed toothpicks, or you can create your own toothpick design. 
Creating a toothpick design is easy. You can either give us a call and we'll handle the details for you or you can use our online customizer tool  – we're here to serve you!
To begin, choose your ideal size and shape. Or consider ordering a mixture of sizes and shapes.
Once you have decided on the perfect pick size, simply upload your image, select your font style, finalize your text, and place your order. If you would like, you can receive a sample of your custom printed pick.
If your order exceeds $250, your order is eligible for free shipping. Once your order is placed, our team will get to work creating your promotional toothpicks! 
Eco-Friendly 
Do you want to know the best part about our custom toothpicks? 
They are 100% eco-friendly! 
Each pick is hand-made from biodegradable bamboo. This means that they are sustainable and healthy for the environment. You can feel good about your purchase! 
The bamboo also makes these custom toothpicks softer and easier on people's gums. Your customers won't have to worry so much about poking themselves! 
Ways to Use Custom Picks 
There are lots and lots of creative ways you could use these picks! 
Here are some ideas for fun and memorable ways that you could use our personalized toothpicks: 
Hold your burgers or club sandwiches together. 

Use them as a cocktail stirrer or for skewering the fruits or veggies that go in your drinks.

Stick them on top of cupcakes for a finishing touch. 

Use them for various appetizers such as small kabobs or meatball lollipops. 

Set them beside a charcuterie tray and let guests use them to pick out their own snacks. 

Mark food made for allergy sufferers - gluten-free, non-dairy, etc. 

Mark your steak as rare, medium, or well-done.   
Whether you are a caterer, chef, or restaurateur, a custom pick is the perfect way to impress your guests and create a memorable experience for them.
These custom toothpicks and picks accomplish a two-fold purpose: they add a little flair and panache to your menu items while simultaneously marketing your business. It's a win-win! This way you get more bang for your buck. 
Browse our other toothpick products:
Check out a few of our bulk and custom items too, which include: 
Customer Reviews:
Here's what some of our customers are saying about our products:
"These are better than I thought they would be! Arrived safely and in good time."
"Love these. Will be buying again and again for parties."
"Not flimsy at all"
"I used them to decorate a cake-stuck them side by side between two tiers and it was great. They look great and are able to be washed an reused again."
"Terrific for the Chicago cubs theme birthday party I threw for my mom. Everyone thought the were adorable and sturdy enough for appetizers. Go Cubs!"
"These are the perfect size for smaller finger foods, as well as cupcakes or even sandwiches! By far the highest quality I could've imagined. Couldn't have been more satisfied"
"These were great - cute and solid. Exactly what I was hoping for... They are wonderful to kick up a party a notch."
1