Our custom tableware is the perfect way to intrigue your guests and market your brand at the same time! Clients will be fascinated with your unique design, and marketing has never been easier :)
---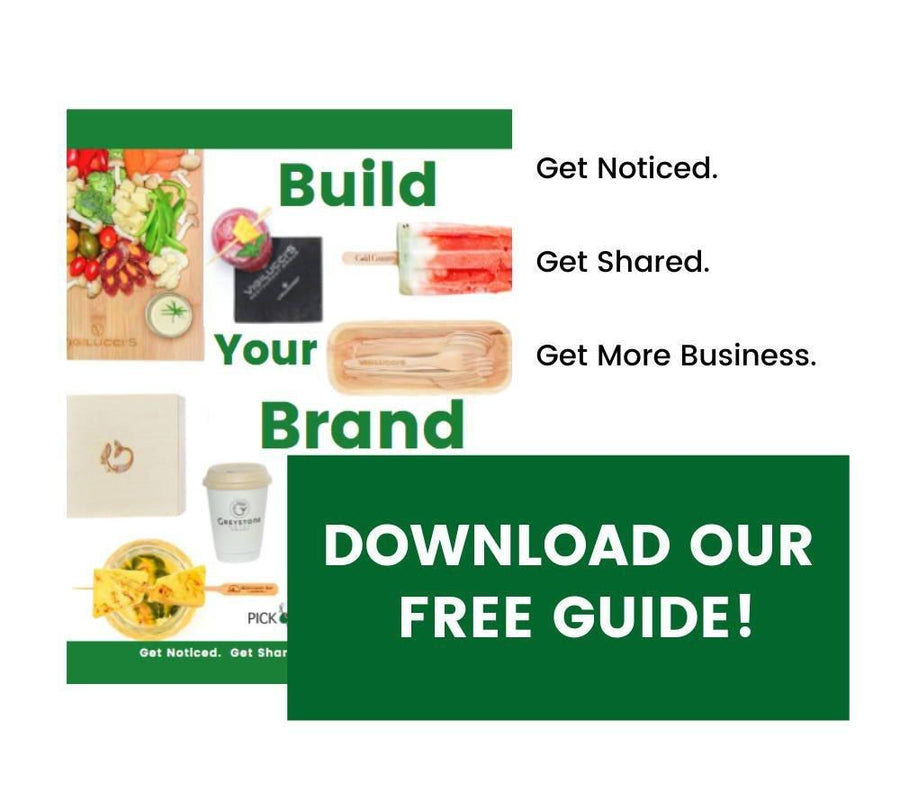 They say that you eat a meal with your eyes before it ever touches your mouth. 
As a caterer, chef, or restaurateur, you know it's true that how your food looks is just as important as how it tastes. Presentation matters! Everyone wants to be the chef with the eye for presentation. 
What if you could up your presentation that extra notch while simultaneously marketing your business? 
Good news! 
You can! 
Here at Pick On Us, we have a whole line of custom tableware that will not only up your presentation and wow your guests, but will build your brand as well! 
Designed for appetizers and hors d'oeuvres of all kinds, this custom printed tableware is the perfect way to market your brand while maintaining your budget. Every time a customer uses a custom printed fork or spoon, they will see your brand name and know exactly who made them their delicious food. 
Plus, it will amuse and delight your guests! Nobody else will have your unique design.  
If you are ready to take your food presentation to the next level, check out this collection of custom tableware today! 
Items in This Collection 
Our collection of custom dinnerware includes: 
Bamboo tasting spatulas and spoons  

Bamboo tasting sporks 

Wooden knives, forks, and spoons

Charcuterie boards

Coasters

Collapsible to-go boxes 
Suggested Uses for Custom Tableware
There's something here for every occasion: 
Our bamboo tasting utensils are perfect for appetizers, dips, and samples. 

The wooden utensils are better for more heavy-duty dining. 

Our charcuterie boards aren't just for charcuterie - they work great for artisan breads, cheeses, fruit, or other displays as well! 

Our coasters are awesome for both hot and cold drinks. 

And nobody will have cooler to-go boxes than you with these custom, collapsible, bamboo ones! 
And the best part? 
You can get all these items printed with your own unique design! Nobody else will have dinnerware quite like yours. 
Custom tableware is the perfect way to get your brand out there one more time. Plus, it is a great way to serve your menu items with a little more flair and panache–which every chef or caterer wants to do!
Designing Your Custom Dinnerware Is Easy!
Every event or restaurant needs tableware. Why not make it cool, custom tableware? 
It's easy to create your own custom design! 
Specify what items you would like to have printed.

Send us your unique design.

Let us handle the details! 
You should receive your personalized dinnerware within 7 business days. 
Eco-friendly Tableware
Do you want to know the very best part about this custom tableware? 
It's healthy for the environment! 
As a business, we are committed to using sustainable resources and doing all we can to preserve the earth. All our products are made from responsibly harvested, biodegradable materials, and none of them end up in landfills. 
Help us do our part in sustaining the earth. 
View other custom products
We have more collections of eco-friendly tableware supplies too. You could take a look at our straw collections, which include: 
Customer Reviews 
Here is what some of our customers are saying about us and some of our other products: 
"If I could give 6 or more stars, I would!...You will not be disappointed and your guests will be very intrigued and impressed!"
"Great price, great product, fast shipping. We have been using them for several years."
"Exactly as advertised. Came well packaged and on time. Would definitely order again."
"I would DEF recommend this seller & product. Fast shipping & great products 👍"
"Love these. Will be buying again and again for parties."
"Ridiculously cute and well made for a disposable item. These picks were a hit during our baseball Bloody Mary Brunch!"
"These are the perfect size for smaller finger foods, as well as cupcakes or even sandwiches! By far the highest quality I could've imagined. Couldn't have been more satisfied"
"Great quality and strong construction. Look terrific for our western party."
"So cute and were functional too! Held sandwiches together as well as smaller appetizers"
1