Would you like to spice up your cocktails, impress your guests, and market your brand all at the same time? Try our custom printed drink stirrers!
---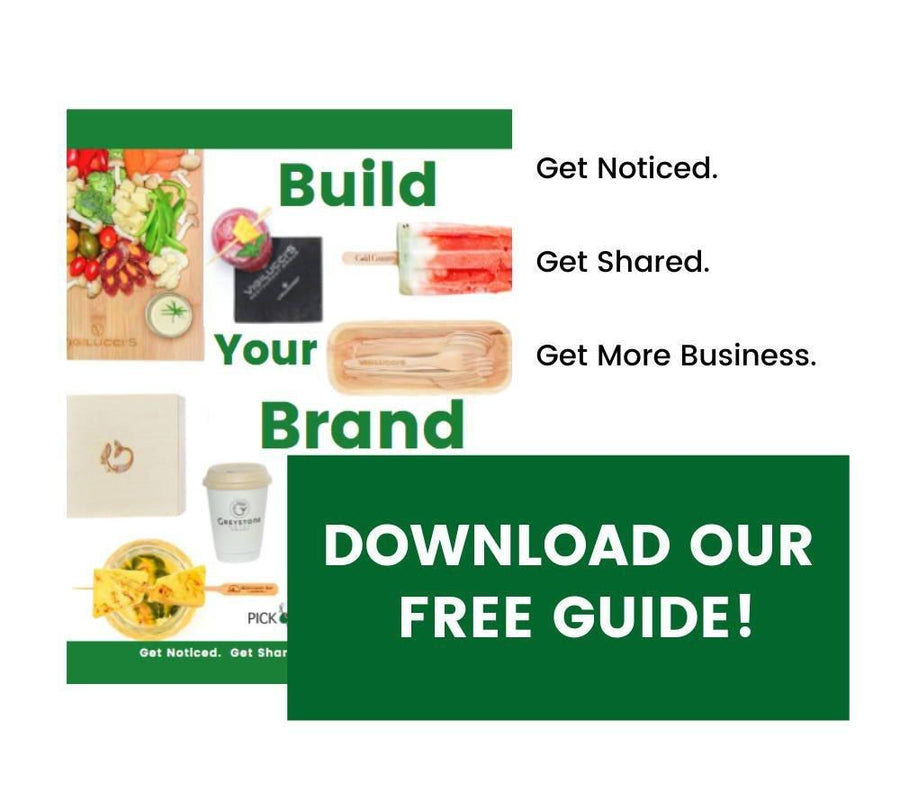 As a caterer, chef, or restaurateur, you know how difficult marketing can be. Every day you fight to build a trusted, memorable brand. 
The average person sees over 3,000 commercial messages a day, and it takes about 8 interactions for a consumer to absorb your brand. 
You need to take advantage of every opportunity to expose people to your brand so you can get those 8 interactions in!  
Thankfully, we have a way to help you do this!
A custom drink stirrer is a simple way to expose your customers to your brand one more time. It's also useful and will delight your guests! 
With a branded drink stirrer, every drink that leaves your counter becomes a marketing tool for your business. And you don't have to do any work for it! 
Let your drinks do your marketing or you. Then you can focus on what matters most: growing your business.  
Try some custom wooden drink stirrers today! 
Types of Custom Cocktail Stirrers
Our collection of custom cocktail stirrers includes: 
Round top skewers

Oval top skewers

Rectangular top skewers

Boat oar skewers

Paddle skewers 
We also have different lengths of drink stirrers, ranging from 3.5 inches to 8 inches. 
Customizing your Cocktail Skewers
It's easy to customize your drink stirrers:
Choose your size and shape

Choose your quantity 

Send us the design or logo you would like on your skewer

Let us take it from there! 
You should be able to enjoy your custom wooden drink stirrers within 7 days of ordering them. 
A well-made cocktail is great. But a well-made cocktail with a custom drink stirrer? Now that is fantastic! These custom drink stirrers are an excellent way to give your drink a little more flair and panache while simultaneously marketing your brand. It's a win-win!
Eco-friendly Stirrers
The best part about these custom wooden drink stirrers? 
They are 100% eco-friendly! 
As a company, we are committed to making our products responsibly and reducing as much waste as possible. Our goal is to preserve our planet. 
That is why we make all our products from responsibly sourced bamboo. Each skewer is biodegradable, sustainable, and natural. 
You can feel good about your decision to buy these custom wooden drink stirrers! 
Suggested Uses for our Drink Stirrers
Use these custom wooden drink stirrers for:
The garnishes on all your cocktails, mocktails, and margaritas

Fruit or candy on milkshakes and smoothies

Swizzle sticks for your drinks

Coffee or hot drink stirrers 

Dressing up any other drink you serve! 
But it doesn't stop there. These custom drink stirrers would also work for:
Appetizers or charcuterie trays

Topping desserts such as cupcakes 

Holding together sliders, wraps, and club sandwiches
They will be perfect for your restaurant, catered event, food truck, stand, or any other business that works with food and drinks! 
Customer Reviews 
Here's what some of our customers are saying about us and our products:
"Exactly what I was looking for and at an excellent price!"
"Arrived in a timely manner and as described. We used these for cocktail garnishes for our wedding reception. Looked great with drinks!"
"I love these toothpicks. They are very innovative and look cool in a cocktail glass when serving drinks."
"By far the highest quality I could've imagined. Couldn't have been more satisfied." 
"These really are the cutest appetizer toothpicks I have ever seen. We had a beach themed party and everyone wanted to know where I got them. Loved them, reasonable and very well constructed."
"We used this in our tasting room when we hosted a few baby showers. Picks were very sturdy, used them for fruit accents in mock tails/cocktails."
"Everyone at the pool party got a kick out of these and the quality is amazing."
"These work very good for me. I have been ordering from this company for quite a while now. I tried many 6 " skewers but these are the best for my needs."
Delight your guests while promoting your brand. Marketing has never been easier! 
Try some of our custom cocktail stirrers today!
View our other custom products:
While you are there, check out some of our eco-friendly skewer products, which include: 
1