Are you ready to ramp up your food presentation and build your brand at the same time? These custom printed skewers are the perfect way to start!
---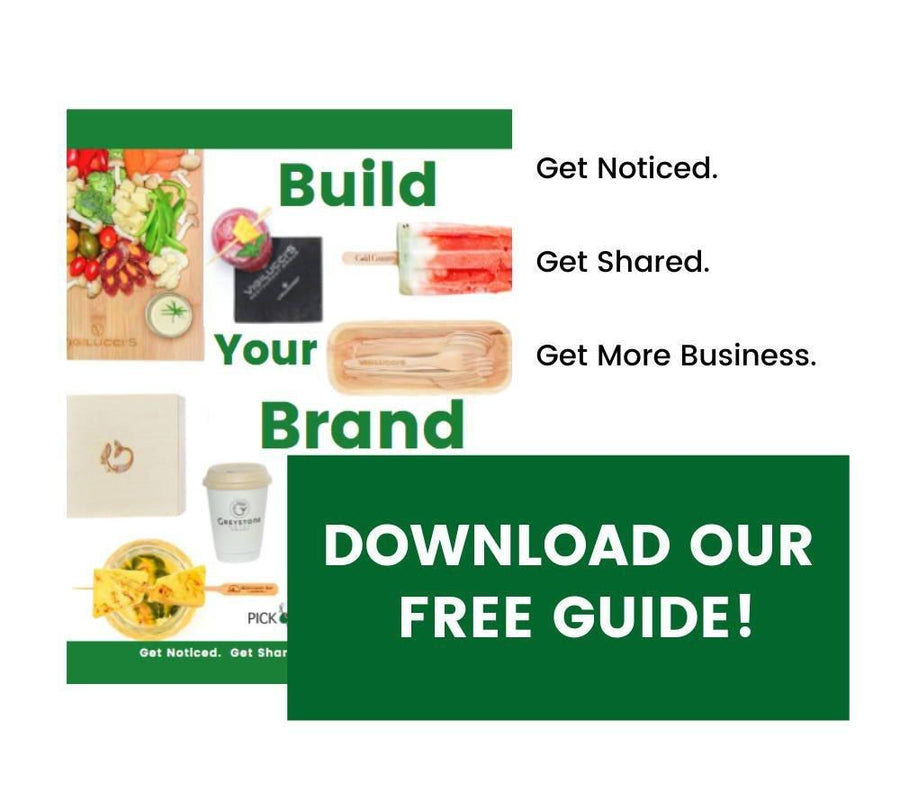 As a caterer, chef, small business owner, or restaurateur, you are familiar with the never-ending struggle to stand out from the crowd. 
We get it - making a name for yourself is hard! All business owners have experienced the struggle, including us. 
Do you want to know about a neat trick for effortless brand promotion? 
Use custom branded food skewers on all your food and drinks! 
Using personalized skewers is a simple and easy way to get your brand name in front of your customers one more time.
After all, they say it takes an average of eight encounters with your brand for people to remember it. Custom food pick skewers are a way to get one more touch in before your customers leave to go back to their busy lives.  
This simple marketing hack is cheap and time-efficient. It takes almost no effort on your part and it just might be the element that brings someone back to your business. 
Are you ready to improve both your food presentation and marketing with one simple tool?  
Check out our custom food skewers today!  
Personalized Skewers In This Custom Collection 
We have lots of different shapes and sizes of custom food pick skewers to choose from:
Roundtop skewers

Rectangular top skewers

Oval top skewers

Boat oar picks

Paddle picks

Custom popsicle sticks
You can also select different lengths for different purposes. Short picks work best for appetizers and samples, and the longer picks are best for kabobs and sandwiches. 
All of them are sure to intrigue your guests! 
Ways To Use Personalized Skewers 
Here are some ways you could use our custom food pick skewers: 
Set them by a charcuterie board or sample tray
Create savory grilled kabobs or charcuterie kabobs
Skewer the garnishes on cocktails, smoothies, or milkshakes
On top of a cupcake, slice of cheesecake, or other dessert
Stick them in a banana split, float, or ice cream sundae
Put them in your lemonade, iced tea, or specialty drinks
Use them for appetizers of all kinds! 
However you choose to use them, they will make a fantastic finishing touch for your food. They are even better than a cherry on top. ;)
Plus, they will be a completely unique touch to the dishes and drinks on your menu. If you use your own creativity to design your own specialty skewers, we can guarantee that nobody else will have skewers quite like yours! 

Eco-friendly Custom Skewers
Are these custom food skewers eco-friendly? 
You better believe it! 
As a business, we are dedicated to creating sustainable products and limiting our impact on the earth. 
That is why we make our custom food skewers out of sustainable, responsibly sourced bamboo. Each one is 100% biodegradable and eco-friendly. You will never find our personalized skewers or any of our other products in a landfill!  
Help us protect the earth by buying sustainable, responsibly-made products! 
After you order your skewers, consider our other foodservice products in bulk:
Take a look at some of our other custom products while you are at it: 
Customer Reviews 
Want to know what others are saying about us? 
Here are some honest customer reviews about our toothpick and skewer products:
"Exactly as advertised. Came well packaged and on time. Would definitely order again."
"These are the perfect size for smaller finger foods, as well as cupcakes or even sandwiches! By far the highest quality I could've imagined. Couldn't have been more satisfied."
"top notch costumer service. I contacted them about a mishap with the initial shipping and they went above and beyond to make sure I had everything I needed by the time of the party. Kudos! Will definitely be a repeat customer."
"Great, very creative. Great for appetizers or drinks. Very well made. Use for any golf event or birthday party. Thank you"
"Great quality sandwich picks! We used them for my sons first birthday party and everyone loved them!"
"This product does a great job. It is priced right and well constructed. I would recommend heartily. A real buy!" 
"These were perfect! Exactly as described and arrived super-fast. Thank you!"
Are you ready to jazz up your food presentation, market your brand, and delight your guests all at once? 
Check out our custom food pick skewers today!
1